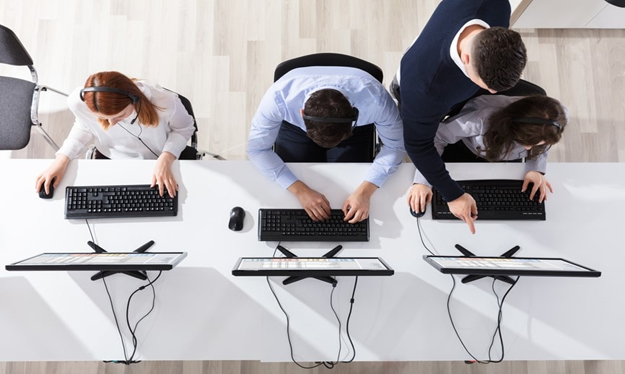 Several organizations used technology to support their businesses and went online. However, facing this black swan created more problems than expected. Even the employees and managers with experience over the decades were unable to cope with the new normal.
We reached out to several organizations to figure out the challenges they faced during this pandemic. They are as follows:
1. Without adequate training for the new and tenured employees, the work from home concept became inefficient.
2. Keeping tracks, monitoring, and analyzing overall productivity became one of the significant challenges in online businesses.
3. Training the tenured managers (or boomers as we could say) was one of the prominent obstacles. These senior managers are hard-wired to work in the brick and mortar offices. Upgrading them and training them with new applications and technology remotely was challenging for several organizations.
4. Developing trust and working together with a new team/employee was another obstacle. As intermingling of the employees was no longer an option since the lockdown, forming a bond between the employees and building a team spirit became difficult.
5. Even technology could malfunction at times and would cause hindrance to work.
6. The threat to security was another problem several organizations faced. As all the employees started working from their home's comforts, keeping the data secure and safe inside the office cubicles became impossible, thus increasing the threat of data being leaked.
7. Lack of real-time guidance and training the new employees were not possible as work from home became the new normal. Hence, solving the employees' queries and doubts immediately was not feasible and cost a business to many organizations.
On the contrary, it doesn't take a data scientist or researcher to tell us how it is critical to maintaining customer experience for sustaining the growth of any business. Excellent customer experience ensures customer retention and provides brand advocacy. The customer experience directly affects the bottom line of several companies.
By giving a premium quality customer experience, the brand ensures lifetime value, customer retention, and brand loyalty. Studies say that 52 percent of customers would go out of their way to buy the product from the brand, which they are loyal to or the one that offers the best customer experience, according to Zendesk's Customer Experience Trends Report, 2020.
Post-pandemic, maintaining, and upgrading customer experience has become the sole objective of many multinational companies. As everyone is after getting the most significant market share, improvising the customer experience is the only way to go on about. To add on, in this digitally fast-paced world, the attention span of the customers has decreased drastically. Hence, the customer will not think twice about shifting to a competitive rival brand in the customer experience is not satisfactory. The competitors are just a google search away.
A business can drive competitive advantage by offering a good customer experience, thereby preventing them from switching brands. In this dire situation, the one solution we could develop was giving better training to the employees and working staff. We came up with a few solutions that helped several organizations in this awful situation. They are as follows:
We could start by training the managers with the new technology and its usage. Empowering the managers with the knowledge of the latest forms of digital forms of communication, handling, and managing the organization's operations would become a piece of cake.




Promoting and enhancing the usage of digital learning could be one way of dealing with the work-from-home crisis. Creating an ideal course for the employees and ensuring that they follow them diligently could help the organization streamline its entire operations.




Making micro-level plans and mapping out the business's entire process could also be one of the options to deal with the challenges.
However, we saved the big guns for the finale. We have developed a training simulator that is the one real solution to all the employees' challenges during this pandemic.
If you are wondering if it is too good to be true, then here is everything you need to know about these cutting-edge technologies.
Training Simulators
We know that the chances of a frontline employee dealing with clients or customers directly with little or no knowledge is exceptionally high. This could now cost in losing business for the company. To avoid these situations, organizations could integrate a new training simulation for new hires and tenured employees.
What is Training Simulator?
The Training Simulator is a user-friendly digital platform for the workforce, which could become a turnkey solution to all the organizations' or employees' challenges.
This cutting-edge training tool digitally creates a safe simulated environment for the trainee/ employee to work and gain experience with costing the company any materialistic loss.
This simulator could get both new and tenured employees a scenario-based, hands-on experience with customer calls. It could also train them in services, sales, and various technical support jobs.
Using this simulator, an employee develops soft skills, uses proper voice modulation, and practices different scripts for different types of customers.
It is hassle-free to design the simulator. The organizations could mirror the interface of their system and start the training.
Furthermore, the simulation also offers several extra features, including data analysis tools.
This training simulator is the optimum way to determine the employee's calibre, determine the knowledge gap, and the amount of training required by individual employees.
Impacts of Training Simulator to Your Business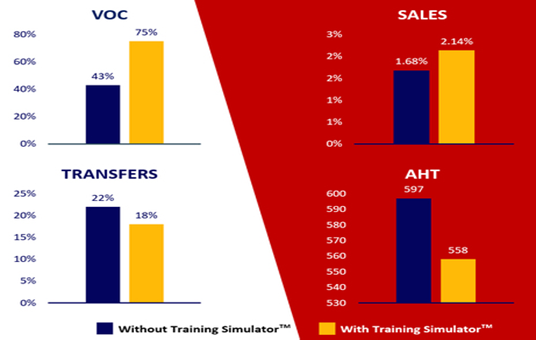 The graph shows the success of using a Training Simulator in driving overall performance and improving results. This tool is proven to effectively support and help businesses meet their KPIs which include reduced Average Handle Time (AHT) and increase in Sales, Transfers, and their Voice of the Customer (VOC).
We know how essential it is to ensure the best quality of customer experience and losing the business over poor customer services cannot be risked by any organization.
For more information about these cutting-edge technologies and innovations in the call center industry and to learn more about delivering a superior customer experience for your customers, clients, and prospects, contact ONE Contact Center today. We'll be more than happy to help.
One Contact Center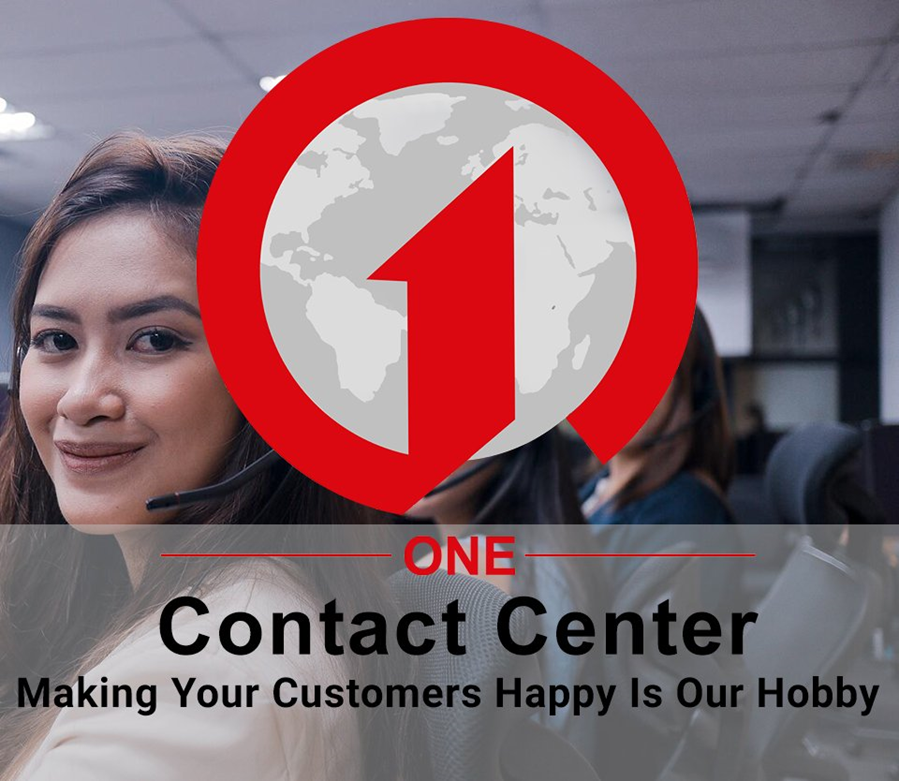 One Contact Center offers social media marketing, back office support, virtual assistance, call center support and BPO services for small businesses to startups and international brands. Our services can incredibly diminish your workload and help you in producing better income.