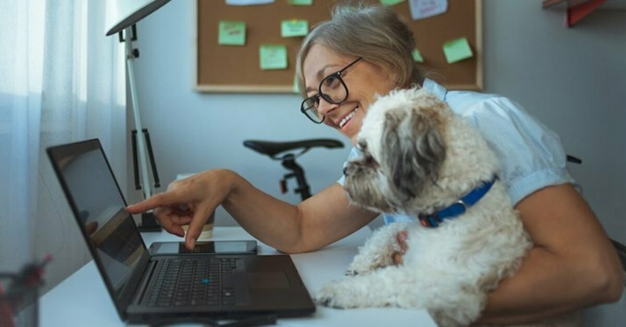 Currently, most talented professionals have been working remotely for about six months. But even if you have successfully adapted to the "new routine," of working from home, it can sometimes become lonely and stressful. On the bright side, and it might be funny.
From technical debacles to uncontrollable pet cams, there are features of remote control that often bring easy entertainment. So, if you need a comedy break, here are some hilarious incidents that could happen while professionals work from the comfort of their homes.
Having a furry and fuzzy coworker can be helpful.
For employees all over the world, spending more time with their pets seems like a dream come true. But giving equal attention to your work as well as your pet could become a hassle. Whether they're running across on the keyboard, or pulling a mouse out of the socket, or trying to bit off headphones, some pets need to learn proper office behavior before we can give them a permanent job sitting next to us.
But everyone has room for improvement! And as you sit home, training them on the weekends to respect your office space could be the new thing you could do in the pandemic.
Potty Training over Office Training
We all know how kids feel when their working mom and dad spend time with them. But even though the kids are cute and adorable, they cannot understand the protocols when their parents are working. That is why at times, we could come across a child trying to decorate her mom's office in the middle of a video interview. Recruiting from home as a working parent often involves surprise cameos from children on team meetings and even interviews. Luckily, these interruptions tend to make people smile, rather than annoy them.
As we transitioned from working in the office to working from home, we definitely got more comfortable. Working your eighth hour shifts in your comfortable yoga pants was definitely a dream come true for all the employees across the globe. But every once in a while during the office meeting, we forget that we are sitting in our yoga pants and connect the call. That's when we come across instances such as employees misrepresenting their cameras and revealing that they are wearing pajamas in the client meeting. While experts say that wearing formals to work every morning can improve productivity, we've all had at least one pajama day where we are just too tired to get out of the bed. The secret is to wear something that slips over the waist if you know you'll be in the video.
Dealing with the Modern Technology
It was a huge deal for several enterprises trying to shift their operations over a digital platform. Modern day technology played a huge role trying to move the boardroom meetings from offices to video conferencing. But every now and then we could come across the managers accidentally turning on funny filters with either cat ears or fishnet hats during a video conference. For many people, switching to remote control work involves many new discoveries - including the fact that you can change your background from visible meetings to whatever you want.
The pandemic due to COVID-19 has really taken everyone off their feet, but by trial and error people are trying to get their business back in action. But that does not mean we cannot get comedy out of the tragedy as laughter could be one of the vaccines that could cure this disease.