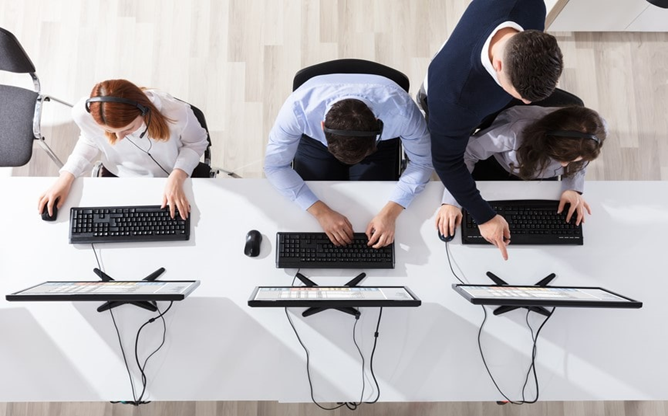 It is said that dire need gives birth to innovations. The same is the case when we consider the pandemic of COVID-19. Several ground-breaking techniques, as well as technologies, were launched to cope up with the on-going lockdown.
Several organizations had to shift entirely on digital platforms to keep their businesses going. This transition was not easy for everyone and impacted many industries resulting in them losing their business. COVID-19 has left a long-lasting impact on all the different industrial and business sectors alike.
Customer services remained the critical pillar of all the businesses. Developing these customer services would make or break any industry, even in this pandemic. However, making customer services efficient by giving excellent training was one of the primary challenges. By doing in-depth research, we developed a few feasible solutions that can be undertaken even in this lockdown.
Training Simulators
was one of the optimum solutions we came across.
We know that customers are the most valuable assets of any company. In an organization, there could be a possibility that a frontline employee would have to deal with customers and clients with little or no training whatsoever. To deal with this problem, organizations can integrate simulation training for new employees and introduce their workforce to user-friendly digital platforms. These simulators are the turnkey solutions that could allow any industry to train the recruits effortlessly.
The simulation could create a safe environment for learning, and employees could work on it without costing the company any materialistic loss.
This simulation could help train the employees in sales, services, and various technical support jobs.
Designing the training simulation can be done so that it would mirror the interface of the company's system.
This simulation technique would help the employee develop their soft skills, practice different scripts, and use proper voice modulation.
Training simulation also offers extra features such as data analysis tools. Identifying the employee's caliber, determining the knowledge gap between employees, classes, and trainers can be quickly resolved using these tools. This information is useful in setting the curriculum for continuous growth.
Few other solutions are as follows:
Managers Have to Evolve, Adapt, and Conquer
When it comes to training new employees, managers should use the latest digital forms of communication. They should be well prepared to use different platforms to communicate and train new employees online. In the "new normal," leaders are going to be the new learners.
Promote and Enhance Digital Learning
It could be ideal for making e-learning courses for recruits. They could go through these courses and learn about the company's values and policies. It would also help give unified training to all the company employees to streamline the whole operations of the industry.
Preparing for the Unknown Outcome
Perseverance is the key to success. The new challenge would keep on popping up, but it is essential not to get disheartened and throw your hands in the air. Anything is possible through thoughtful and strategic decision making. It is vital to consider all the odds while making any decisions.
Micro-Planning
Letting the pandemic situation settle and take its due course is not an option fancied by many organizations. The threat of losing the clients and market share overshadows the danger of a pandemic. This threat has surged the need to micro-plan each and everything. Managers should understand when to reschedule or cancel the training due to the ramp up demand for several services. The workers must always be on their A-game, so it is essential to prioritize the type and quality training that needs to be given to the employee. Furthermore, it is also necessary to evaluate every outcome of the training and keep track of each new employee's progress.
Even in the most trying times, keeping the customer services at the optimum helps you build a business. It is vital to recognize the changes and to embrace it positively with efforts. However, many organizations find themselves at a roadblock, not able to decide how to move ahead.
To learn more about delivering superior customer experience for your customers, clients, and prospects, contact us today!